Cell Surface Receptors in Cell Signalling
90
Cell Surface Receptors in Cell Signalling
When a cell signalling molecule binds to a specific receptor, it activates a series of intracellular targets located downstream of the receptor. Several molecules associated with receptors have been identified:
G protein-coupled receptors (guanine nucleotide-binding proteins): Members of a large family of G proteins (more than 1000 proteins) are present at the inner leaflet of the plasma membrane When a signalling molecule or receptor-ligand binds to the extracellular portion of a cell surface receptor, its cytosolic domain undergoes a conformational change that enables binding of the receptor to a G protein. This contact activates the G protein, which then dissociates from the receptor and triggers an intracellular signal to an enzyme or ion channel.
Tyrosine kinases as receptor proteins: These surface receptors are themselves enzymes that phosphorylate substrate proteins on tyrosine residues. EGF, NGF, PDGF, insulin, and several growth factors are receptor protein tyrosine kinases. Most of the receptor protein tyrosine kinases consist of single polypeptides, although the insulin receptor and other growth factors consist of a pair of polypeptide chains. Binding of a ligand (a growth factor) to the extracellular domain of these receptors induces receptor dimerization that results in receptor autophosphorylation (the two polypeptide chains phosphorylate one another). The autophosphorylation of there receptors determines the binding of the tyrosine kinase domain to downstream signalling molecules. Downstream signalling molecules bind to phosphotyrosine residues through domains called SH2 domains (for Sre homology2). Sre (for sarcoma) is a gene present in the tumour-producing Rous sarcoma virus and encodes a protein that functions as a protein tyrosine kinase.
Cytokine receptors: This family of receptors stimulates intracellular protein tyrosine kinases, which are not intrinsic components of the receptor. A growth factor ligand induces the dimerization and cross phosphorylation of the associated tyrosine kinases. Activated kinases phosphorylate the receptors, providing binding sites for downstream signalling molecules that contain the SH2 domain.
Receptors linked to other enzymes (protein tyrosine phosphatases and protein serine and threonine kinases): Some receptors associate with 90 protein tyrosine phosphatases to remove phosphate groups from phosphotyrosine residues. Therefore, they regulate the effect of protein tyrosine kinases by arresting signals initiated by protein tyrosine phosphorylation.
Members of the transforming growth factor-ß (TGF-ß) family are protein kinases that phosphorylate serine and threonine residues (rather than tyrosine). TGF-ß inhibits the proliferation of their target cells.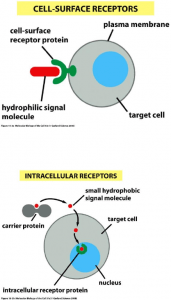 References