INTRODUCTION
PARVOVIRUSES | AT A GLANCE
The smallest known viruses.
Virions in the range 18–26 nm in diameter.
The name was derived from the Latin word parvus which means small.
Family – Parvoviridae
Subfamily – Parvovirinae (vertebrate viruses) and the Densovirinae (invertebrate viruses )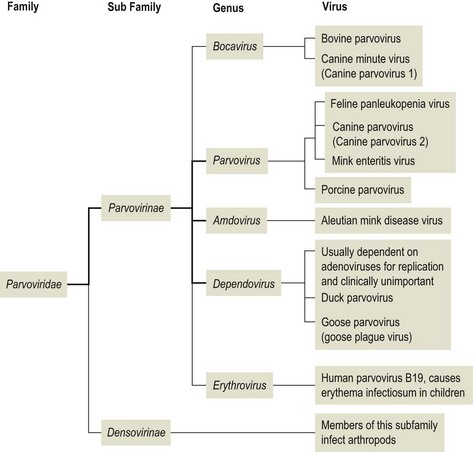 PARVOVIRUS VIRON STRUCTURE
Simple structure with the ssDNA
Genome enclosed within a capsid
Icosahedral symmetry
The capsid is built from 60 protein molecules
The proteins are numbered in order of their size.
Each of the protein species contains an eight-stranded β-barrel structure.
The virion is roughly spherical.
With surface protrusions and canyons
A protrusion with a pore at the center is present at each of the vertices of the icosahedron.
GENOME
Genomes composed of linear ssDNA
Size range 4–6 kb
Several short complementary sequences are present at each end of a DNA molecule.
They can base pair to form a secondary structure.
Inverted terminal repeats (ITRs) are present in some parvovirus genomes.
The sequence at one end is complementary and in the opposite orientation to, the sequence at the other end.
The ends have identical secondary structures as the sequences are complementary.
Parvoviruses with ITRs during replication generate equal numbers of (+) and (−) strands of DNA.
In the case of (-) DNA, the genes for non-structural proteins are towards the 3'end and the structural protein genes are towards the 5'end.
PARVOVIRUS REPLICATION
Its small genome can encode only a few proteins.
The virus depends on its host cell or another virus to provide important proteins
Some of these proteins are available only during the S phase of the cell cycle during DNA synthesis.
Hence, this restricts the opportunity for parvovirus replication to the S phase.
The virion attaches to receptors on the surface of a  host cell.
Enters the cell by endocytosis and is released from the endosome into the cytoplasm.
Associates with microtubules and is transported to a nuclear pore.
The parvovirus virion is too small to pass through a nuclear pore.
The capsid proteins of some parvoviruses undergo nuclear localization signals.
The single-stranded virus genome is converted to dsDNA inside the nucleus by a cell DNA polymerase.
As a result of base pairing, the ends of the genome are double-stranded.
At the 3'end the –OH group acts as a primer to which the enzyme binds.
The virus genes are transcribed by the cell RNA polymerase II.
The primary transcript(s) undergo various splicing events.
Two size classes of mRNA are produced.
The non-structural proteins are encoded by larger mRNAs.
The smaller mRNAs encode the structural proteins.
The non-structural proteins are phosphorylated.
The DNA is replicated by a mechanism called rolling-hairpin replication after the conversion of the ssDNA genome to dsDNA.
This mechanism sets parvoviruses apart from other DNA viruses.
Capsids are constructed from the structural proteins and filled by a copy of the virus genome, either a (+) DNA or a (−) DNA as required.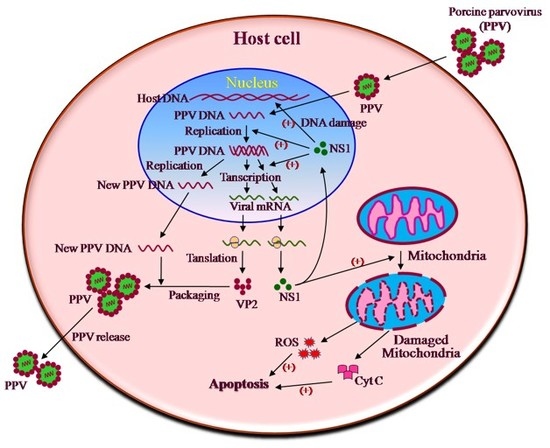 REFERENCE
https://pubmed.ncbi.nlm.nih.gov/29261104/
https://pubmed.ncbi.nlm.nih.gov/28410597/
https://www.academia.edu/30888358/John_Carter_Virology_Principles_and_Applications.pdf